Photos




Norway July 2008




At the top of the Pulpit Rock, 600
meters above the ground.






With my dad and my sister.




*The Dominican Republic, July 2009*




Welcome to Paradise!






Whass'up?!…






At a 4th of July beach party with friend and
mentor Mike Dillard.




*New York City August 2009*




Leadership Mastermind weekend with Michael Force, Andrew
Cass & Aaron Parkinson.




*September 2009: Cruise Of The Greek Islands*




Enjoying lunch with my sister Bodil on the roof top terrace
of a restaurant in Rhodes.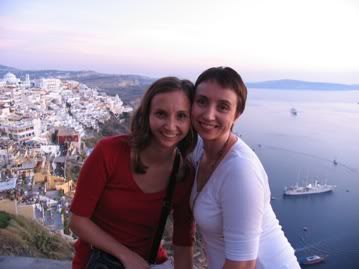 Our cruise continues…to the breathtaking island of Santorini.






Our cruise ship also docked in Patmos.
Here I am with a monk I befriended in
the monestary of St. John.






The ancient city of Corinth.




*PRO Marketing Event Las Vegas Nov. '09*


Here I am with some of the girls that I train: Elena
Kazanova of Sweden, Erica Ninje of Delaware, PJ Smith 
of Las Vegas, and Jenni Ryan of Australia.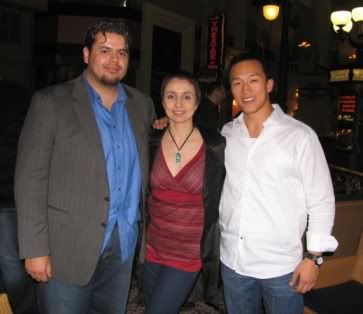 On Marketing Day I finally got to meet "the Kings of SEO"
Fernando (Ferny) Ceballos and Raymond Fong.






Following the marketing event, in the evening, I threw a VIP party for my
team at the elegant Ah Sin restaurant. Getting everyone together for a
team picture turned out to be an exercise in futility, but here I am with
those of my members I was able to hunt down…






I even had my own cash awards for my team: John
Russell Terrier, Jenni Ryan and Jim Whittaker each
won $300 in cash as the "running buddies team" with
the most applications. Way to go guys!




*November 2009: My Birthday*




My birthday was celebrated at "Castaway", my favorite restaurant
overlooking the San Fernando Valley. After watching the sunset
from the terrace, we had dinner in style inside the restaurant.




*Merry Christmas 2009!*







*Boca Raton, Florida, March 2010*




On Pro's Master Marketing Day I did a live presentation on
stage on the importance of Value Driven marketing, and
on how to use video to brand yourself.




*Oslo, Norway, April 2010*




Holding an all day workshop/training for some of my Scandinavian
team members in Oslo, Norway – meeting most of them for the
very first time face-to-face!






What a FUN day!!!




*Oslo, Norway, June 2010*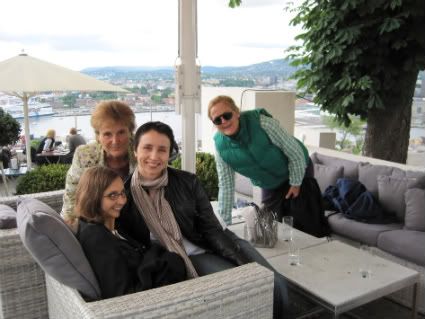 And just 2 months later I was back to celebrate my sister's birthday!




*The No Excuse Summit, July 2010*




With friends David Schwind and Jim Yaghi.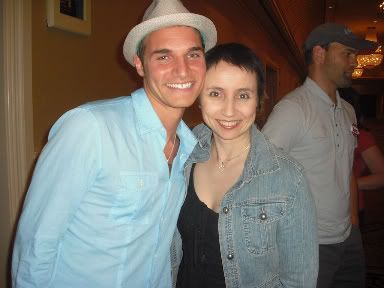 And here with Jonathan Budd.




*Jamaica, July 2010*




From Vegas, Mel and I took an overnight flight to Jamaica.






One day while out walking we stumbled upon
the most beautiful little gazebo…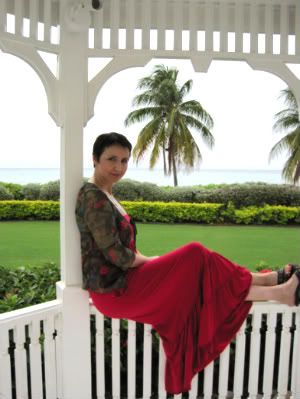 …and we just had to do a photo shoot.






Later, down by the beach.




*Cruise to Bermuda, September 2010*




Sam and I went on a spectacular cruise to the island of Bermuda,
and just barely stayed clear of two hurricanes.






The beaches really are pink!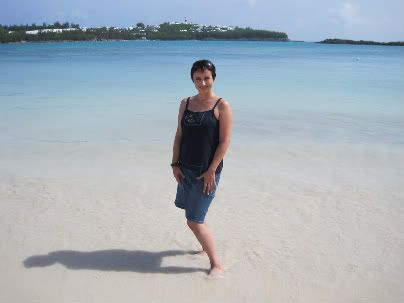 Sam is a passionate photographer.




*PRO Marketing Event, Las Vegas, November 2010*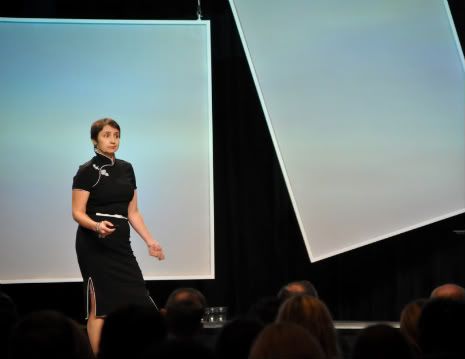 My presentation was on the topic of direct response marketing vs. social
media strategies.






With the creator of "the Automatic Millionaire", David Bach.





* Moorea, South Pacific, March 2011*

Another dream comes true: vacationing on the island of Moorea.




Wow, what a place!





We stayed in this over-water bungalow, and every morning we fed the colorful, exotic fishes from the deck…





*Las Vegas, April 2011*



At a VIP party following "The No Excuses Summit II".
Here with some friends – Mark Hoverson & David
Schwind…and, uhum…a pharaoh.




From outside the suite you had a view of
the Vegas strip…breathtaking!





*Grand Canyon, May 2011*




Sam and I charted two vans and took some team members on a day
trip to the Grand Canyon…It was SO much fun!





…where we celebrated the birthdays of
team members Ida and Melanie with
birthday cake at the rim!





*Phoenix, Arizona, May 2011*



Hanging out with other PRO members at our bi-
annual marketing event.




Two of my students, Melanie and Helene, walked away
with a Master Marketer Award! Well deserved!





Here I am presenting on stage on the topic of video
marketing.





I was also presented with an award of
my own: 3rd place in our company's sales
contest.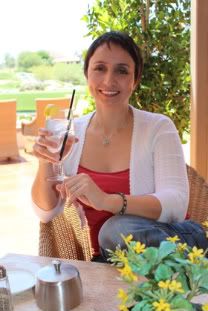 The day after the event: Enjoying
breakfast at the resort in stunning
surroundings before heading back
home to L.A.





*New Jersey September 2011*






At a classy New Jersey restaurant with Jamie Kubassek &
Melanie Phillibert.






Training a group of up-and-coming leaders at our company HQ on the
subject of personal branding.





*Las Vegas October 2011*






Partying at the Mandalay Resort with fellow master marketers
Simon Guilliard, Jenni Ryan, Ferny Ceballos and Aaron Chen.






Lonely? Hardly…just thinking! At
the VIP party following our MME8
(Master Marketing Event 8).





*Los Angeles November 2011*






Happy Birthday to meeeee! LOL. Sam threw me a surprise
party on my b-day – which was on 11/11/11!





*Bahamas December 2011*






View from our beautiful suite at the Atlantis Cove. Nothing beats falling
asleep and waking up to the sound of the waves crashing against the beach!






At one of the many pools at the Atlantis Resort.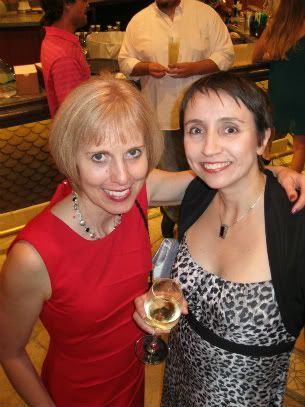 With my good friend Ann Sieg.






With yet another powerful woman entrepreneur: Christine
Kominiak, at the Summit Week dinner in Nassau, Bahamas.






Love this pic of Sam!





*Los Angeles December 2011*






Merry Christmas! Happy Holidays!





*Costa Rica, April 2012*






Zip lining in the jungle! What a graceful
picture of me, eh?






It's not every day that you get a chance
to get zip lining in Costa Rica with a
9-times NYT best selling author! With
David Bach.






Enjoying drinks at the swim-up-bar at the Hilton's. With
Christine Kominiak.






Hanging out at the volcano.






Dinner at a fancy Italian restaurant with my good friend Jay
Kubassek & some other cool people.






Then Sam and I went exploring the
country with a rental car and ended up
spending the night at the quaintest
little cabin. The rain forest was just
a step outside our door, and at night
we fell asleep listening the rain
pounding against the tin roof. Amazing
experience.





*Las Vegas, April 2012*






And then it was off to Vegas for the No Excuses Summit. Sam took this
awesome picture of the city @ night.






At the event with my friends Tim Erway & Andrew Cass.






With my dear friend Brian Fanale, co-founder of MLSP.





*Los Angeles, Spring/Summer 2012*






We celebrated Sam's big 4-0 at home in L.A.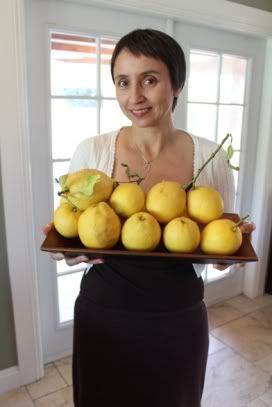 A new neighbor moved in next door and I
brought him a tray of monster size lemons
from the tree in our backyard.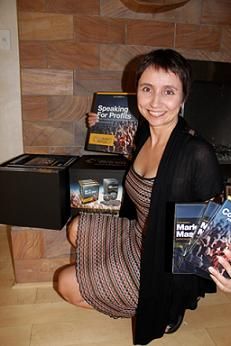 "Speaking for Profits" has arrived!
Sooo excited!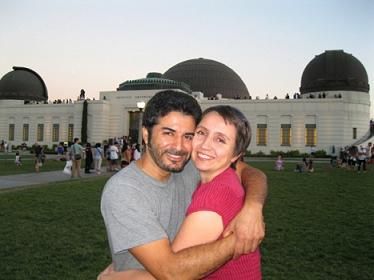 At Griffith Park Observatory in L.A., one of our favorite
places to hang out.





*Live The Dream (LTD), Dallas, TX, October 2012*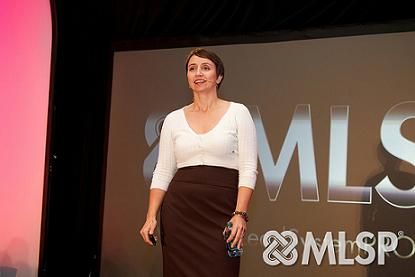 I was one of the speakers at this MLSP sponsored event.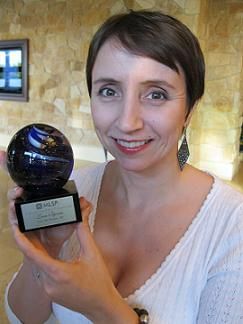 I was also presented with a leadership
award on stage.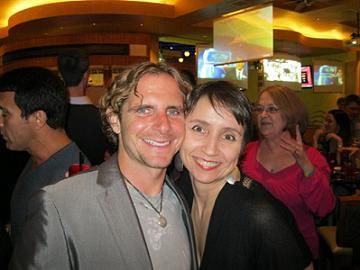 At the VIP party that followed, here with my dear friend
Brian Fanale once again, co-founder of MLSP.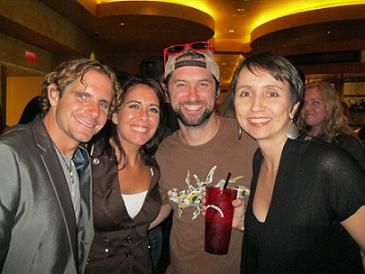 Here with some other MLSP top earners and leaders…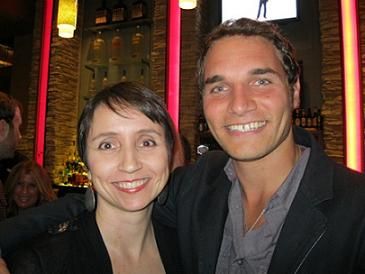 And here with my friend Jonathan Budd, who invited me to…





*San Diego, November 2012*






Attending Jonathan's "Unstoppable Entrepreneur" at
a beautiful San Diego beach resort.





*Filming for "The Ripple Effect", St. Louis, November 2012*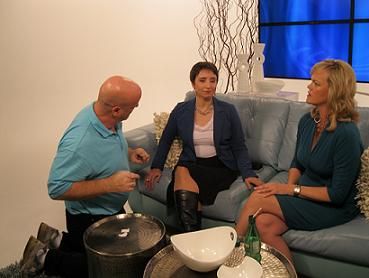 Later that month I traveled to St. Louis to appear on ABC
Television's new inspirational program "The Ripple Effect".






I was a featured expert guest and was interviewed on
the topic of how to build a successful home business
online.






Here I am with some of the other guests and host of the
show, award winning reporter Kristen White.





*Los Angeles, Christmas 2012*






My dad came to visit all the way
from Norway. Here we are on a hike
near Griffith Park Observatory.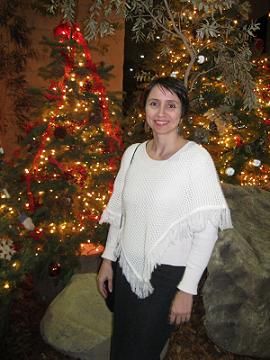 Merry Christmas!




*Norway, Spring 2013*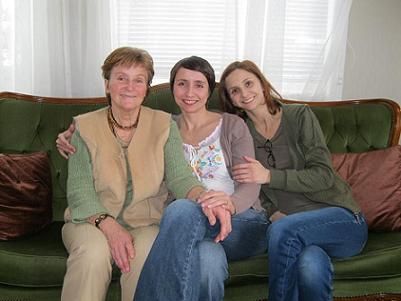 Visiting my sister in Grimstad, Norway. My mom also stopped by.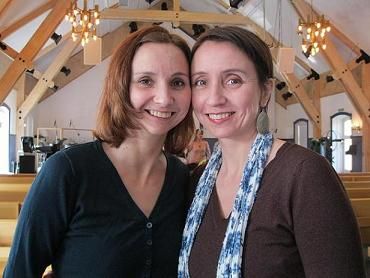 With Bodil at her church in Grimstad.




*Italy, Spring 2013*





Then I flew to Milan where I had my first of many Italian style
breakfasts.






I traveled to Brescia where my friend Fruzan
lives.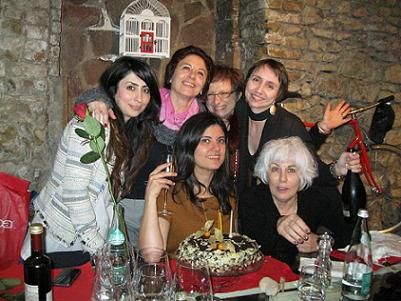 Celebrating Fruzan's birthday at her boyfriend's restaurant in
Brescia.






One day when I went for a walk near a castle where I
was staying, I ran into this handsome gentleman…






Enjoying an "aperitivo" (light snack before
supper). Check out the dome behind me!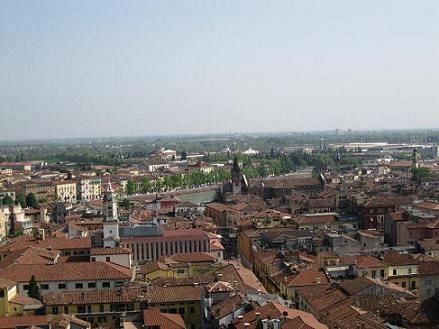 Verona, Italy.






Juliet's Balcony, which was featured
in the recent Hollywood movie
"Letters To Juliet".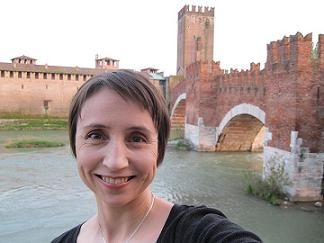 Check out this beautiful bridge!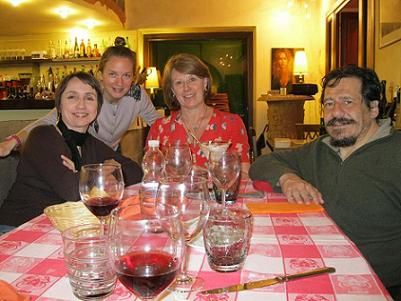 Dinner with some new Italian friends.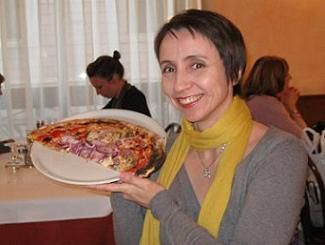 Pizza at an authentic Italian pizzeria!






On my way to Lago di Garda.






A castle at Lago di Garda.






Back on the boat.




*United Kingdom, Spring 2013*





You know you're in the UK…when you
come across a red phone booth!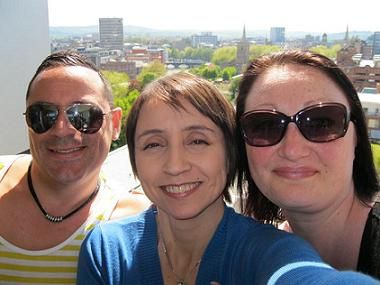 I stayed with my friends Greg & Lisa in their 12th story
apartment in Bristol. Amazing view!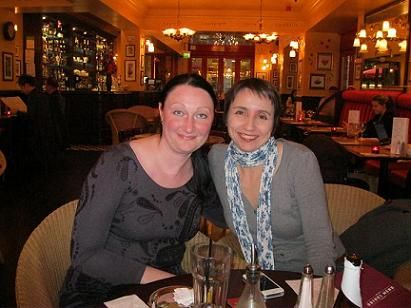 At a French restaurant with Lisa.






We had English tea in the magnificent city of Bath.






Friday night fun with Lisa and two new French friends, Daisy
and Manu, both franchise business owners.






More photos coming soon!