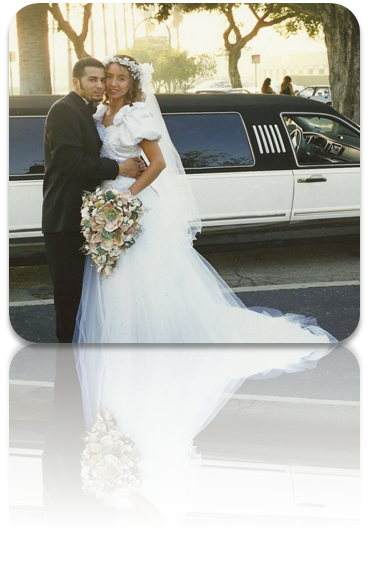 Today Sam and I have been married for 13 years. Wow! It seems like it was just yesterday that this handsome young driving instructor showed up at my doorstep…

Yep, that's how we met: I had just moved to Los Angeles – a city built for cars, I learned quickly – and getting my drivers license became top priority.

Sam was the instructor I hired to teach me…he was just a name I got off of the yellow pages. I, of course, had no idea of the ripple effect that one seemingly small, insignificant decision would create.

That was in November of 1996. Fourteen months later, on January 17, 1998, we were married. We had no money. But we had faith & hope…and we were madly in love.

Interestingly, Sam and I were baptized together just a week before our wedding. And after I had shared my Christian testimony in front of the congregation about how Sam and I met, and how he'd started witnessing to me while we were out driving, the response from the pastor was as follows:

"How about that? Driver's license, marriage and salvation in the same package!"

The congregation erupted in laughter.

Yes, that's the story in a nutshell. And today, 13 years later, I have this to say to my wonderful hubby:

Thank you for all that you do. Thank you for letting me live out my dreams. Thank you for standing behind me, believing in me, cheering me on.

I may be the "face" of our business, but one must not forget that behind every successful woman stands a great man. You are that man. I love you heaps.



Comments
comments
This entry was posted on Monday, January 17th, 2011 at 9:53 pm and is filed under Lena's Rants. You can follow any responses to this entry through the RSS 2.0 feed. You can leave a response, or trackback from your own site.